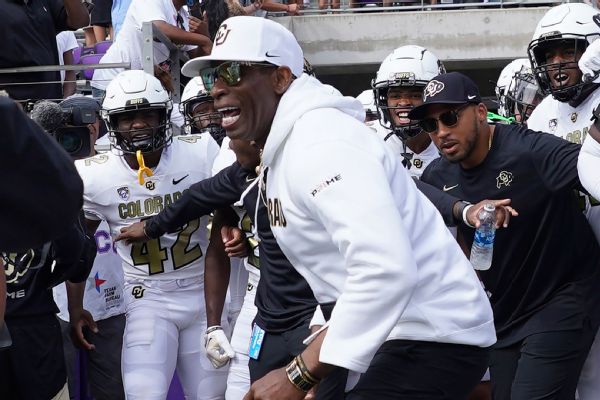 BOULDER, Colo. — Deion Sanders wants his players reading all those stories about how good they are. He wants them soaking up every bit of the spotlight, too.
The Colorado coach isn't one to keep his players grounded. He prefers them flying high, which they are after upsetting heavily favored TCU last weekend and jumping into the AP Top 25 poll at No. 22.
The unconventional Sanders is proving to be a master motivator. He is all about not running from publicity, good or bad, but basking in it and taking "receipts" — his term for those who don't believe — if necessary.
"They [players] have seen that, 'Hey, man, all we have to do is win. You see all the attention that we're getting?' That has registered now," Sanders said Tuesday as he prepares for his home debut at Colorado this weekend against Nebraska. "These young men, they know now that if we just ball out, we're going to get the love that we desire. And that's all they want. They want attention, focus, a little love and light. Ain't nothing wrong with that as long as they use it in the right way."
Sanders has the Buffaloes smack dab in the center of the college football universe this week courtesy a 45-42 win at then-No. 17 TCU. Really, though, they were already there when he made waves by overhauling his roster — nearly 90 new players — and ruffling some feathers around the nation.
His revamped roster has certainly bought in. So, too, have some big names around the sports world, with the likes of Magic Johnson, Patrick Mahomes II and J.J. Watt taking notice on social media.
And so, too, have the oddsmakers, who adjusted the line on Colorado's win total from 3.5 at the beginning of the season to 5.5 — a half-win shy of bowl eligibility.
The early success in Boulder is hardly a surprise to Sanders, a two-time Super Bowl winner during his Hall of Fame football career who turned things around at Jackson State before arriving in Boulder.
"I'm a winner," said Sanders, who took over a team that went 1-11 last season. "We're going to end up winning."
Colorado's quick turnaround also is hardly a surprise to new Nebraska coach Matt Rhule, whose team is a 2.5-point underdog after losing its opener at Minnesota.
"Everything he's ever done in football he's been successful at, so he's being successful here already," Rhule said. "They've got elite players."
The Buffaloes march to the upbeat drum of Sanders, who frequently zigs when other coaches might zag. Like this summer, when he admonished his team for not jumping into a skirmish during camp. He wanted to see them support each other.
The Buffaloes will be united this week in not wearing any shade of red. He wants them only seeing red on the football field come Saturday when they face a former conference rival (they were in the same conference for more than 60 years before Nebraska moved to the Big Ten and Colorado to the Pac-12 in 2011).
"We don't like Nebraska. Simple," Colorado quarterback Shedeur Sanders said. "But that's not going to change the preparation or anything like that, because we prepare like nobody likes us, because we know we're going to get everybody's best game."
TCU certainly saw Colorado at its best. No one more than Shedeur Sanders, who threw for a school-record 510 yards on his way to being named the Pac-12 offensive player of the week. After the game, he received a text from none other than Tom Brady, the QB great who has worked with the younger Sanders in the past.
Brady's message: Don't be satisfied.
"It was cool hearing for him, knowing he's still watching and stuff like that," Sanders said. "Just working with him, it really helped me just to understand — don't focus on the good things. … Focus on the bad things, focus on the things that we weren't able to do at a high level. So improve that."
Sounds like something his dad might say.
Deion Sanders rattled off a long list of accomplishments against the Horned Frogs, a team that was favored by three touchdowns. Among the accolades he highlighted:
Cornerback/receiver Travis Hunter rarely leaving the field on his way to becoming the first player in at least 20 years nationally to have a 100-yard receiving and interception in the same game.

Dylan Edwards catching five passes for 135 yards and three touchdowns.

His QB son setting nine school records ("Kordell Stewart called me not happy about it," Sanders joked of the former Colorado standout).
"What that means is we had some gentlemen that can play this game," Sanders said. "But that doesn't mean anything going into this week. A whole new focus, a whole new understanding on what's at stake."