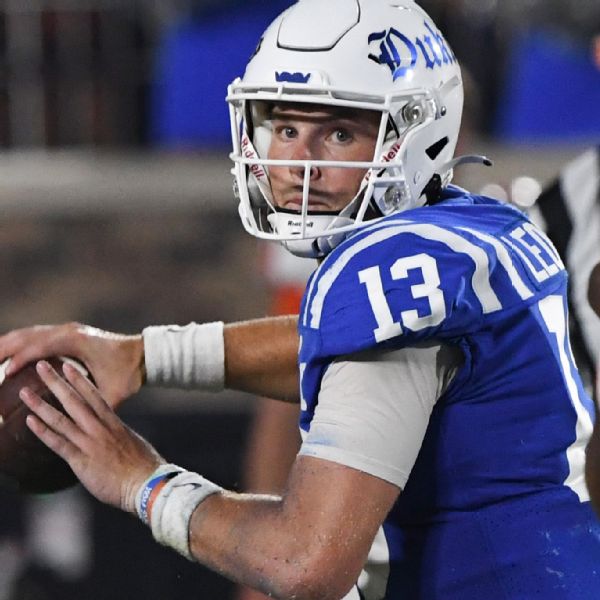 DURHAM, N.C. — Riley Leonard ran for one touchdown and threw for another as the Duke Blue Devils upset No. 9 Clemson, 28-7, on Monday night, capping a wild Week 1 of college football.
The Tigers (0-1) outgained the Blue Devils (1-0) and won the time of possession battle, but three turnovers doomed the new-look Clemson offense.
Cade Klubnik, entering his first full season as Clemson's starting quarterback, was intercepted, and the Tigers also lost two fumbles in the loss, a game in which they had the ball for 33:33, and finished with 29 first downs.
Jaquez Moore and Jordan Waters authored touchdown runs in support of Leonard, and the Blue Devils, who finished 9-4 last season, including a bowl win over UCF, have now won three straight games, dating back to Nov. 26.
"This is what I envisioned Duke could be when I took this job," Blue Devils second-year coach Mike Elko said in his postgame, on-field interview.
Clemson, last season's ACC champions who lost to Tennessee in the Orange Bowl to end the year, revamped the offense in the offseason, bringing in Garrett Riley as the new coordinator.
Last season, Riley orchestrated the TCU offense, helping the Horned Frogs to the College Football Playoff title game, where they lost to Georgia. This was not the beginning coach Dabo Swinney drew up, when he hired Riley.
The win was Duke's first over an AP Top Ten opponent since 1989. And it was the program's first victory over Clemson since 2004.
The Associated Press contributed to this report.