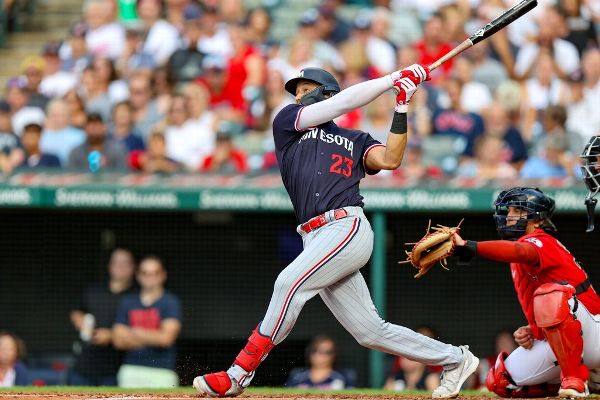 CLEVELAND — Royce Lewis had a grand slam and a career-high six RBIs, and Jorge Polanco and Carlos Correa added solo homers off Lucas Giolito in his Cleveland debut as the AL Central-leading Minnesota Twins beat the Guardians 20-6 on Monday night.
Lewis, the rookie third baseman, tied the franchise record with his third grand slam of the season — all in the last eight games — and has four career slams in 56 games in the majors. That's the fewest games to reach four grand slams in MLB history, passing Rudy York (132).
Three of Lewis' slams have been against Cleveland.
"This team is amazing and the situation just seems to find me because guys keep getting on base in front of me," said Lewis. "Scoring 20 runs is definitely fun, especially when you can beat your divisional rival in a pivotal series."
The Twins moved six games ahead of the second-place Guardians with 24 to play, including two more in this series at Progressive Field. They finished with 20 hits, had 12 players score and established season highs in runs, hits and margin of victory.
Kyle Farmer hit a three-run homer and Joey Gallo and Matt Wallner each had two-run shots off catcher David Fry, who pitched the final four innings and allowed seven runs and 10 hits. Minnesota led 18-1 in the middle of the seventh.
"That's one of the best offensive games I've ever seen in pro baseball," Twins manager Rocco Baldelli said. "We had a lot of memorable games for a lot of people. Some of them started the game and some came in later. Obviously, I enjoyed the win."
Giolito (7-12), claimed off waivers from the Angels on Aug. 31, gave up a career high-tying nine runs in three innings. The right-hander is 1-7 with a 7.22 ERA in his last 11 starts, which include outings with the White Sox, Los Angeles and Cleveland.
"It's just kind of like a nightmare situation," Giolito said. "Just really poor execution and when I was making mistakes, they weren't missing at all. So I wasn't getting away with anything."
Minnesota starter Pablo Lopez (10-7) went six innings, allowing one run on an RBI triple by Jose Ramirez. The right-hander struck out three, putting him eight behind Toronto's Kevin Gausman (207) for the AL lead.
Lewis went 3 for 4, Polanco was 3 for 3 with three runs and Edouard Julien also scored three runs. Willi Castro played center field and third base before pitching the ninth for the Twins and giving up three runs.
"I don't think there is really a way to pitch to Royce Lewis with the bases loaded," López said. "He must live for those moments."
The most lopsided losses in Cleveland history were by 21 runs — 23-2 at Minnesota on June 4, 2002, and 21-0 at Detroit on Sept. 15, 1901.
"I was trying to save our bullpen, just out there to get outs, throw slow, don't get hurt and get out of there," Fry said. "We still want to be able to win this series and I was able to."
The Associated Press contributed to this story.