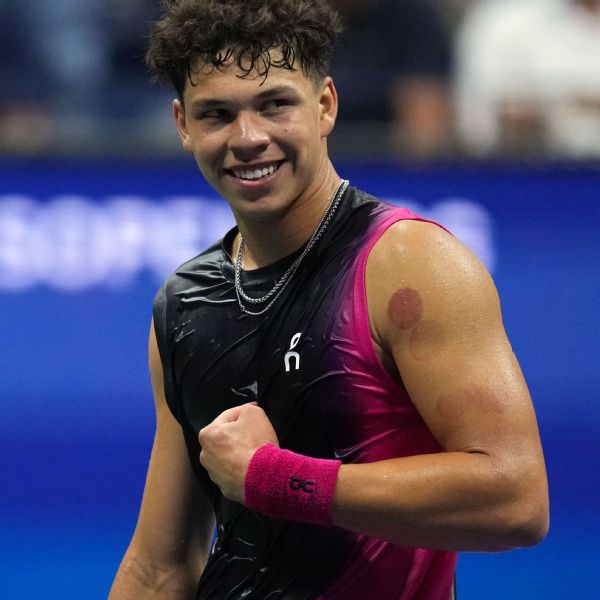 NEW YORK — Ben Shelton is still just 20, still new to this whole professional tennis thing. He is equipped with a tremendously good serve, but don't think he can't come through in other ways when it matters the most.
On a muggy night in which, yes, he hit 14 aces but also hit 11 double faults, Shelton used one blink-and-you-missed-it booming return to save a set point in the pivotal tiebreaker and reached his first Grand Slam semifinal by edging Frances Tiafoe 6-2, 3-6, 7-6 (7), 6-2 at the US Open in a back-and-forth contest filled with huge hitting by both.
"Sometimes you've got to shut off the brain, close your eyes and just swing," Shelton said about his forehand return winner off an 83 mph second serve that prevented Tiafoe from taking a two-sets-to-one lead. "Some may say 'clutch,' but I don't know about all that."
The matchup, which began in Arthur Ashe Stadium on Tuesday evening and ended after midnight on Wednesday, was the first major quarterfinal between two African American men in the Open era, which dates to 1968. It was also the first US Open quarterfinal since 2005 between two men from the host country, which hasn't claimed a Slam trophy in men's singles since Andy Roddick won at Flushing Meadows two years prior to that.
The crowd seemed to have a tough time deciding for whom to cheer, prodding both players at various points of the often even matchup.
Shelton will face Novak Djokovic on Friday for a berth in the final. Djokovic reached his record 47th Grand Slam semifinal, breaking a tie with Roger Federer for the most by a man, by defeating Taylor Fritz 6-1, 6-4, 6-4.
Asked whether he knew whom he'd play next, Shelton smiled and said, knowingly, "He's won maybe 23 of these? Something like that?" — referring to Djokovic's total number of major championships. "It doesn't get much better than that."
Both the unseeded Shelton and No. 10 seed Tiafoe, a 25-year-old from Maryland who was a semifinalist at Flushing Meadows a year ago, wore sleeveless muscle shirts. Shelton's was mostly black with fuchsia down the left side; Tiafoe's was green with a multicolored mix of colors on the front that Coco Gauff described as "confetti."
Both were soaked by sweat throughout, because although the temperature had slid from the 90 degrees Fahrenheit of the afternoon to about 82 degrees by nighttime, the humidity rose to 70%.
"It was a hot one in here tonight, wasn't it guys?" Shelton asked the spectators afterward. "Feeling like I left it all out here tonight. Emotional battle."
Both hit the ball hard. So hard. But Shelton was the one drawing "ooohs" and "aaahs" from the crowd with his every-bit-of-strength lefty forehands that topped 100 mph and serves that zoomed even faster. An ace at 138 mph — he reached 149 mph twice in a fourth-round win against another American, No. 14 Tommy Paul — generated a loud reaction from spectators, as well as a "Yeah!" from the excitable Shelton himself.
It was Tiafoe, the one with a tad more experience on this stage, whose game was littered with mistakes early. A double fault here, a flubbed over-the-shoulder volley that bounced way in front of the net there.
When Tiafoe pushed a forehand long to cede the match's first break, Shelton yelled and looked over at his guest box, where his father — former pro Bryan, who coached Ben to NCAA team and individual titles at the University of Florida and now coaches him on tour — jumped to his feet.
A 127 mph service winner off Shelton's racket ended the first set, and he again stared at his box and held the pose for a few seconds.
Shelton celebrated taking the third set by leaning over and pointing to his ear, asking for more noise from the fans, then tapped his chest as he walked to the sideline. Soon enough, he was breaking to get going in the fourth set. In all, he won seven of Tiafoe's service games.
And when the match ended, Shelton used his hand to pretend it was holding a phone and pantomimed chatting, before hanging up the "call."
The Associated Press contributed to this report.