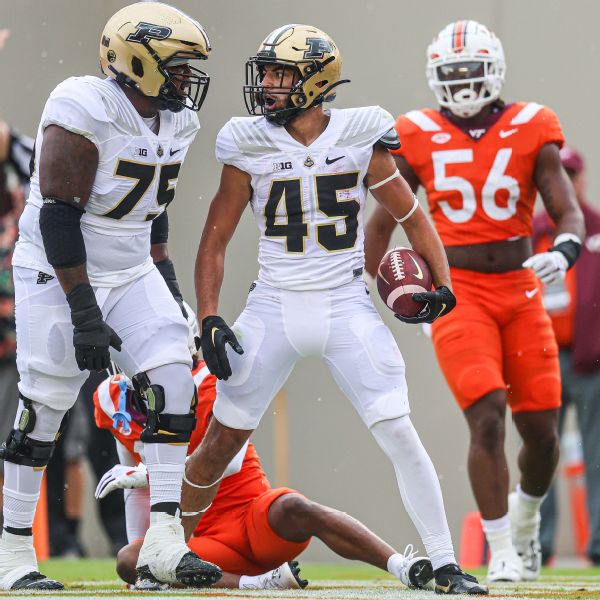 BLACKSBURG, Va. — Hudson Card threw for 248 yards and rushed for a score to lift Purdue to a 24-17 victory over Virginia Tech on Saturday after a weather delay stalled the contest for five hours and 27 minutes.
Card's 1-yard run with eight minutes remaining was the difference for the Boilermakers (1-1), who handed first-year coach Ryan Walters his first victory and took some of the sting out of a 39-35 defeat to Fresno State in the season opener.
"That was a really big win for us and just the confidence for our guys," Card said. "I'm proud of the way we competed. It wasn't easy, but we found a way."
It was indeed a long day at Lane Stadium following a noon ET kickoff. A thunderstorm hit the area with five minutes remaining in the first quarter, resulting in Virginia Tech officials to clear the stadium. The storm dumped more than four inches of rain.
Virginia Tech (1-1) rallied from a 17-0 deficit, scoring 17 unanswered in the final six minutes of the first half. But the Hokies' six second-half possessions ended with four punts, a turnover and a loss of possession on downs.
Grant Wells threw for 243 yards and two scores for the Hokies, but also threw two interceptions and was sacked three times.
The Boilermakers, who did not turn the ball over, weren't perfect in this one, but Card made some timely plays, Devin Mockobee had some tough runs and the defense held in the second half.
When the game finally ended, Walters received the customary Gatorade shower on what was already a soggy sideline.
"It makes you want more," Walters said. "I'm really proud of the guys. This was a unique game in and of itself with the delay, but to get that first one on the road against a quality opponent, I thought the guys showed a lot of resiliency and just how they'd respond to adversity."
Purdue's players spent much of the delay playing spades or hangman, or just hanging out with family and friends in the stadium's concourse — all part of their coach's strategy to get their minds off the game and the delay. Officials from both schools wanted to restart the game at 3 p.m., but the storm hadn't dissipated, and they then contemplated canceling the game before agreeing to attempt a 6:15 p.m. restart.
"We did not want to do that," Walters said of canceling. "We got in touch with our pilots, and they said as long as we were taking off by 4 in the morning, we were good. I figured if we could start playing by 1 a.m., we'd be in good shape. You only get 12 guaranteed opportunities, so I didn't want to waste this one."
The Associated Press contributed to this report.