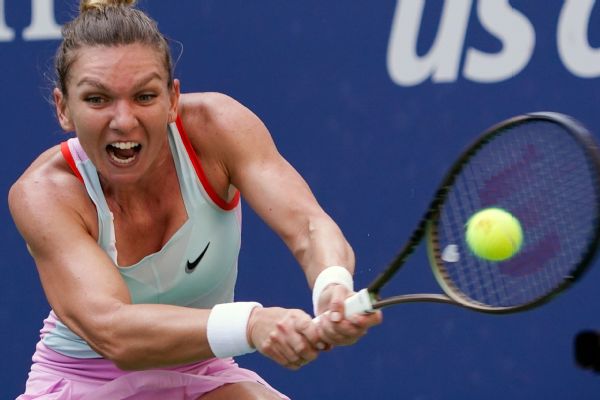 Two-time Grand Slam champion Simona Halep has been banned for four years for two separate anti-doping rule violations, the International Tennis Integrity Agency said Tuesday.
Halep, 31, has been provisionally suspended since October 2022 after testing positive for banned blood-booster Roxadustat at the US Open last year.
Halep said she would appeal to sport's highest court, saying she "refused to accept" the decision.
"I am continuing to train and do everything in my power to clear my name of these false allegations and return to the court," Halep said in a statement. "I intend to appeal this decision to The Court of Arbitration for Sport and pursue all legal remedies against the supplement company in question."
Her suspension runs until Oct. 6, 2026.
Halep reached No. 1 in the WTA rankings in 2017. She won Wimbledon in 2019, beating 23-time major champion Serena Williams in the final, a year after winning the French Open.
The drug Roxadustat is approved for medical use in the European Union to treat the symptoms of anemia caused by chronic kidney failure. According to the EU's medicines agency, it stimulates the body to produce more of the natural hormone erythropoietin, or EPO, which has long been a doping product favored by cyclists and distance runners.
Halep was accused of a second doping offense in May for irregularities in her athlete biological passport. The charge was "separate and in addition to" the provisional suspension from 2022.
The ITIA said in May that the charge "was based on an assessment" of Halep's biological passport profile by an expert panel. Such passports provide a baseline reading of substances in an athlete's body and are considered a way to help chart doping.
At the time, Halep posted on social media that she has "lived the worst nightmare I have ever gone through in my life" since being initially charged by the ITIA.
In August, the U.S. Tennis Association announced that Halep "was automatically withdrawn" when the US Open qualifying draw was held. During a provisional suspension, a player is ineligible to compete in or attend any sanctioned events.
Information from The Associated Press was used in this report.