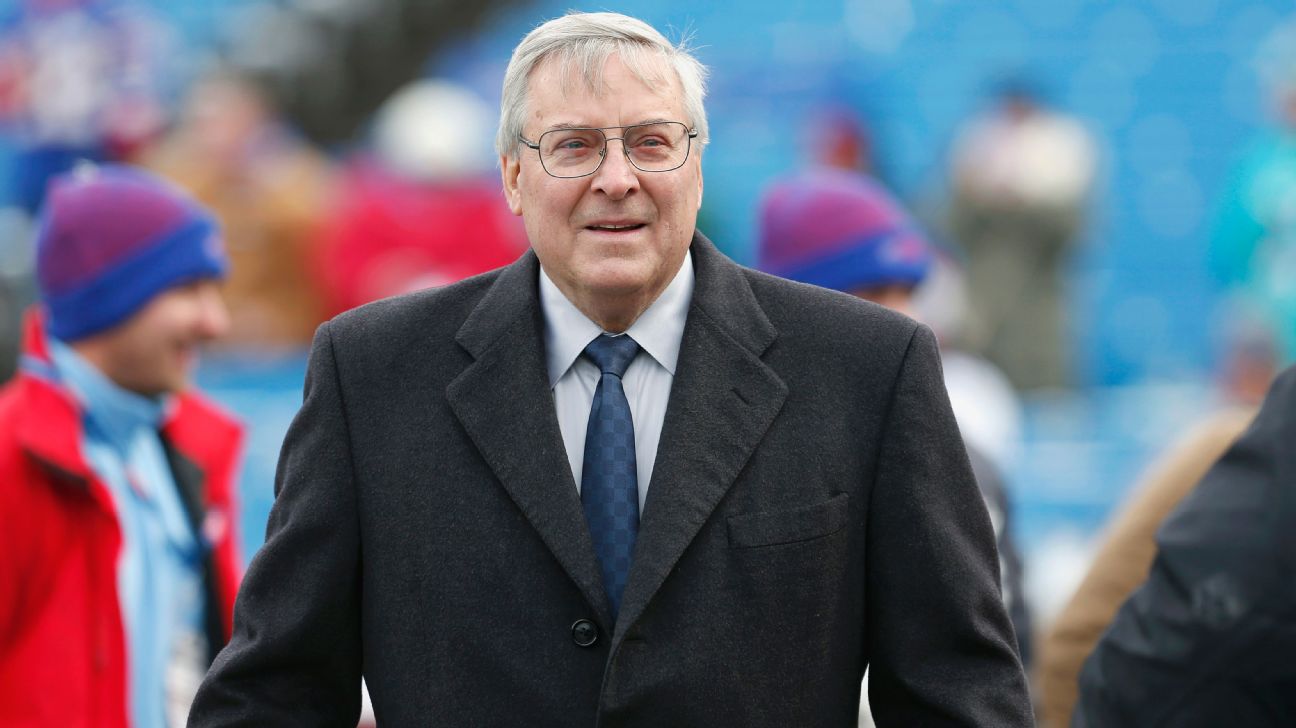 Buffalo Bills owner Terry Pegula allegedly made a racist comment about Black players in the NFL, according to a racial discrimination lawsuit against the league filed Tuesday by longtime reporter Jim Trotter.
Trotter alleges in the lawsuit that in 2020, a fellow NFL Media reporter recalled a conversation he had with Pegula, who was speaking to the reporter about the NFL's social justice initiatives and Black Lives Matter.
The reporter, who was not identified in the lawsuit, told Trotter and approximately 40 other NFL Media coworkers during a Zoom call that Pegula said, "If the Black players don't like it here, they should go back to Africa and see how bad it is."
The lawsuit states that Trotter, who is Black, pressed executives at NFL Media to investigate Pegula's comments, which were "highly offensive and racist," but that he was "repeatedly brushed off and told that 'the league office is investigating it.'"
Pegula has denied making the comment.
"The statement attributed to me in Mr. Trotter's complaint is absolutely false," Pegula said Tuesday in a statement. "I am horrified that anyone would connect me to an allegation of this kind. Racism has no place in our society and I am personally disgusted that my name is associated with this complaint."
The lawsuit also mentions Dallas Cowboys owner Jerry Jones, who allegedly told Trotter in 2020 that "If Blacks feel some kind of way, they should buy their own team and hire who they want to hire."
Jones' comment allegedly was made during a conversation with Cowboys executive Will McClay, who is Black, and Trotter about "why teams have so few Black decision-makers," according to the lawsuit. Trotter, who described the exchange as "rather contentious," said that Jones ultimately suggested that he and Trotter "should 'agree to disagree' about the NFL's issues with race."
Jones said in a statement that the lawsuit's "representation" of his exchange with Trotter is "simply not accurate."
"Diversity and inclusion are extremely important to me personally and to the NFL," Jones said. "The representation made by Jim Trotter of a conversation that occurred over three years ago with myself and our VP of Player Personnel Will McClay is simply not accurate."
Trotter's employment at league-owned NFL Media, which oversees the NFL Network, ended earlier this year. The lawsuit, filed in the United States District Court for the South District of New York, names the NFL and NFL Network as defendants and alleges that Trotter was terminated because he "challenged Commissioner Roger Goodell and others regarding the NFL's record of race discrimination and lack of diversity."
The NFL issued a statement disputing Trotter's allegations.
"We share Jim Trotter's passion for quality journalism created in and supported by a diverse and inclusive environment," the league said. "We take his concerns seriously, but strongly dispute his specific allegations, particularly those made against his dedicated colleagues at NFL Media."
The NFL said Trotter's contract was not renewed as a result of business decisions made to address "a challenging economy and a changing media environment."
Trotter is seeking unspecified damages and called for a "full-scale investigation into the discriminatory and/or retaliatory animus of all persons in position of power within the NFL, including the NFL team owners."
"The NFL and team owners have repeatedly shown they are unable to monitor and police themselves, making these equitable measures a necessary component of any awarded relief," the lawsuit says.
Trotter is being represented by the same law firm as former Miami Dolphins coach Brian Flores, who sued the NFL and three teams last year, accusing the league and its teams of discriminatory hiring practices in coaching searches.
Trotter previously covered the NFL for ESPN and currently works for The Athletic. He said in a statement posted to social media that he filed the lawsuit because he "can't complain about things that are wrong if I'm unwilling to fight for what is right," and that he hopes the lawsuit "leads to real change across the league and in the newsroom."
Information from The Associated Press was used in this report.