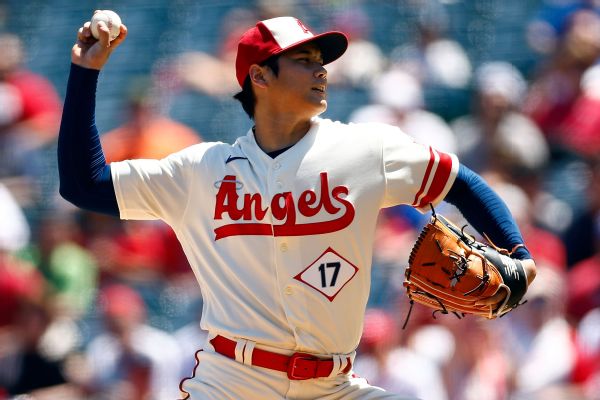 NEW YORK — Shohei Ohtani's soaring popularity was even more evident when it came to jersey sales.
Ohtani had the best-selling jersey in Major League Baseball this season, the first time a Japanese player finished in the top spot. The league and the MLB Players Association released the top-20 list Friday, with rankings based on sales of Nike jerseys since Opening Day on MLBShop.com.
The Los Angeles Angels' two-way star beat out Atlanta's Ronald Acuna Jr., Aaron Judge of the New York Yankees, San Diego's Fernando Tatis Jr. and Mookie Betts of the Los Angeles Dodgers.
Houston's Jose Altuve, Seattle's Julio Rodriguez, Atlanta's Matt Olson, Houston's Alex Bregman and Mike Trout of the Los Angeles Angels rounded out the top 10. Trout has finished in the top 10 every year since his rookie season in 2012.
Ohtani finished in the top 10 twice before (2018, 2021), but hadn't come close to being No. 1.
He's the favorite to earn American League MVP honors after hitting .304, with 44 homers, 95 RBIs, 8 triples and 20 steals. The right-hander also went 10-5 with a 3.14 ERA in 23 starts on the mound.
A pending free agent, Ohtani had elbow surgery last week and was shut down for much of the season's final month because of an oblique injury.
Ohtani and nine others in the top 20 were born outside of the United States. They represent Canada, Curacao, the Dominican Republic, Japan, Puerto Rico and Venezuela.