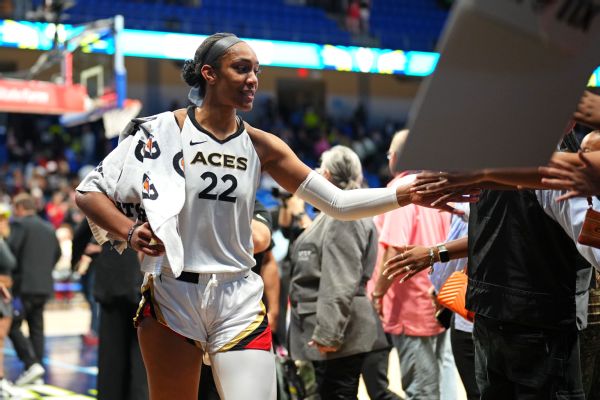 ARLINGTON, Texas — A'ja Wilson had 13 points and 13 rebounds, including a tying layup late, and the defending WNBA champion Las Vegas Aces advanced to the finals for the third time in four years, scoring the game's final 11 points to beat the Dallas Wings 64-61 on Friday night.
Alysha Clark made a tiebreaking free throw with 1:45 left and Jackie Young added two more foul shots with 2 seconds left as Las Vegas completed a three-game sweep.
The Wings, hosting a semifinal game for the first time since the franchise moved from Tulsa to Dallas in 2016, had a 61-53 lead when Arike Ogunbowale made a running layup with 4:59 left. They didn't score again.
Ogunbowale, who finished with a game-high 18 points, came up short on a 3-pointer as time expired after Dallas was able to call timeout and get one more shot.
Wilson made a free throw with 2:56 left, but Clark rebounded after her second free throw missed. The ball went to Chelsea Gray, who made a nifty pass to Wilson for the tying layup with 2:44 left.
Clark's free throw a minute later put the Aces ahead.
Gray finished with 15 points while Young and Kelsey Plum each had 11 for the Aces.
Natasha Howard added 14 points for the Wings, while Teaira McCowan had 10 points and 15 rebounds.
The Aces set a WNBA record with 34 wins during the regular season, with one of their six losses being against Dallas. They lost three times to New York, which has a 2-1 series lead over Connecticut — last season's runner-up — in the other semifinal.