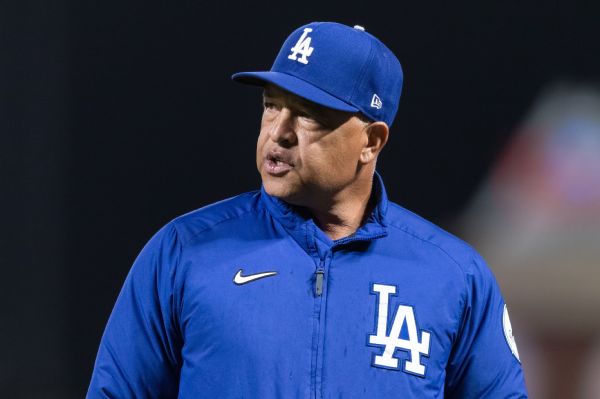 SAN FRANCISCO — Dodgers manager Dave Roberts and acting Giants skipper Kai Correa stood for a photo as they exchanged pregame lineup cards. They were believed to be the first managers or head coaches of Asian descent to face each other in any of the four major U.S. sports.
Freddie Freeman made a little history of his own by hitting his 59th double of the season. He then scored on a three-run homer by J.D. Martinez, lifting NL West champion Los Angeles past San Francisco 6-2 on Friday night.
Wilmer Flores homered and hit an RBI single for the Giants, who were managed by bench coach Correa. San Francisco fired manager Gabe Kapler earlier in the day, three games before the end of his fourth season.
Roberts cherished the moment with Correa.
"Obviously he's heavy-hearted right now. He and Gabe have a good relationship, but for me as an Asian American to be able to exchange lineup cards with Kai, I'm proud of him and what he's done and what he's doing," Roberts said.
"I've got a lot of respect for him. It's good for the game in the sense that someone that didn't play professional baseball or big league baseball has reached the heights that he has. That's good for people that look like us. … When you step back for a second and realize the significance, it's big."
Correa said he thanked Roberts "for representing our shared background and creating opportunities for folks who look like me," adding: "I'm glad I got to have that moment."
Freeman doubled with one out in the sixth inning, matching Todd Helton in 2000 for the most doubles in a season in the majors since 1936 and the seventh-most all-time. Will Smith was hit by a pitch before Martinez delivered his 33rd home run, chasing Giants right-hander Keaton Winn (1-3).
Smith hit a two-run homer in the first, and Freeman went deep in the third.
Lance Lynn (13-11) allowed two runs on two hits, struck out four and walked four over six innings to win his third straight decision after he didn't factor into a 10-inning win against the Giants his last time out on Sunday at Dodger Stadium.
The Giants (78-82), who will finish with a losing record after going 81-81 last year, need two wins this weekend to win the season series for the first time since taking 10 of 19 in 2021. Los Angeles has won four of the past five in the rivalry.